Introducing our unique collection of upcycled leather bookmarks featuring beautifully embossed quotes that inspire and uplift. Crafted from salvaged leather, each bookmark embodies sustainability and creativity, making them the perfect choice for eco-conscious book lovers who appreciate the art of repurposing.

Size: 6.5 long x 1.75 wide

Quotes:

1. To be continued...

2. "If a book is well-written, I always find it too short." - Jane Austen

3. To many more chapters together

4. No text, quill pattern
Features:

Upcycled Leather: We believe in giving discarded materials a new lease on life. Our bookmarks are crafted from upcycled leather, sourced from the leftovers of our journals to prevent waste and reduce our environmental footprint. Each bookmark carries its own unique character, with variations in texture and color that tell a story of sustainability.

Embossed Quotes: Our bookmarks are adorned with carefully chosen quotes that inspire, motivate, and resonate with readers. The embossed lettering adds a touch of elegance to the bookmarks, creating a visual and tactile experience that complements the act of reading.

Handcrafted Precision: Each bookmark is meticulously handmade by skilled artisans, ensuring attention to detail and quality craftsmanship. From the cutting of the recycled leather to the embossing of the quotes, every step is carried out with precision and care, resulting in a product that stands out for its beauty and durability.

Versatility in Design: Whether you're seeking motivation, reflection, or a reminder of a beloved book, our collection offers something for every reader.

Sustainable Gifting: Showcasing your commitment to sustainability, our upcycled leather bookmarks make excellent gifts for environmentally conscious individuals. Whether it's a birthday, anniversary, or special occasion, present your loved ones with a unique bookmark that not only holds their place in a book but also tells a story of social responsibility.

Contribute to a greener world while immersing yourself in the joy of reading with our upcycled leather bookmarks. Let the embossed quotes inspire you as you explore the pages of your favorite books. Choose sustainability and style - order your upcycled leather bookmark today!
PLEASE REMEBER WE ARE NOT AMAZON AND NEED 1-3 BUSINESS DAYS FOR ORDER PROCESSING. 
Everything gets packed and shipped from our warehouse in Oakland, California.
The cost and speed of shipping depends on the delivery destination and the weight of the order.
We offer USPS and UPS shipping option at the checkout page.
As with all handmade and small-batch items, no two pieces are exactly the same.
Since we use recycled and upcycled materials, variations in size, color, and design will occur naturally.
We guarantee the quality of our handmade products, and we hope that you enjoy and celebrate these variations and natural imperfections as much as we do.
Note: Color discrepancies may occur between this product and your computer screen. Pen Not Included. Our materials have natural faults and lines that make every piece unique.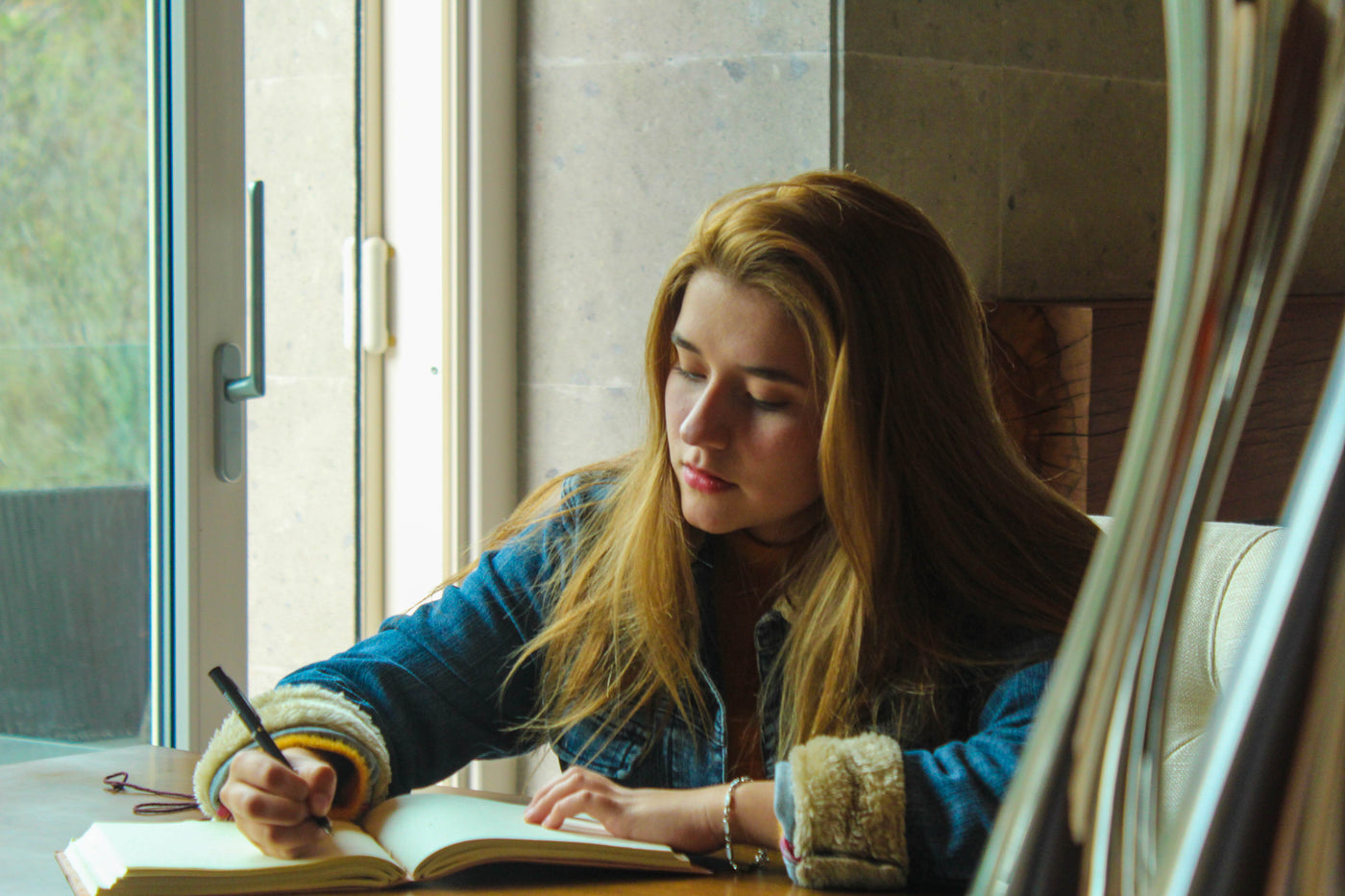 Connect With Yourself
WHY THIS JOURNAL
At Soothi A journal is more than a work surface. It's a landscape. A self-portrait. A stage. It's a launchpad. A treasure chest. Home-base and H.Q. It's where it all starts. Where the magic happens. Where dreams become reality. It's the one dedicated place, throughout history, across the globe, where we all go to think, learn, write, sketch, plan, invent, improve and reimagine.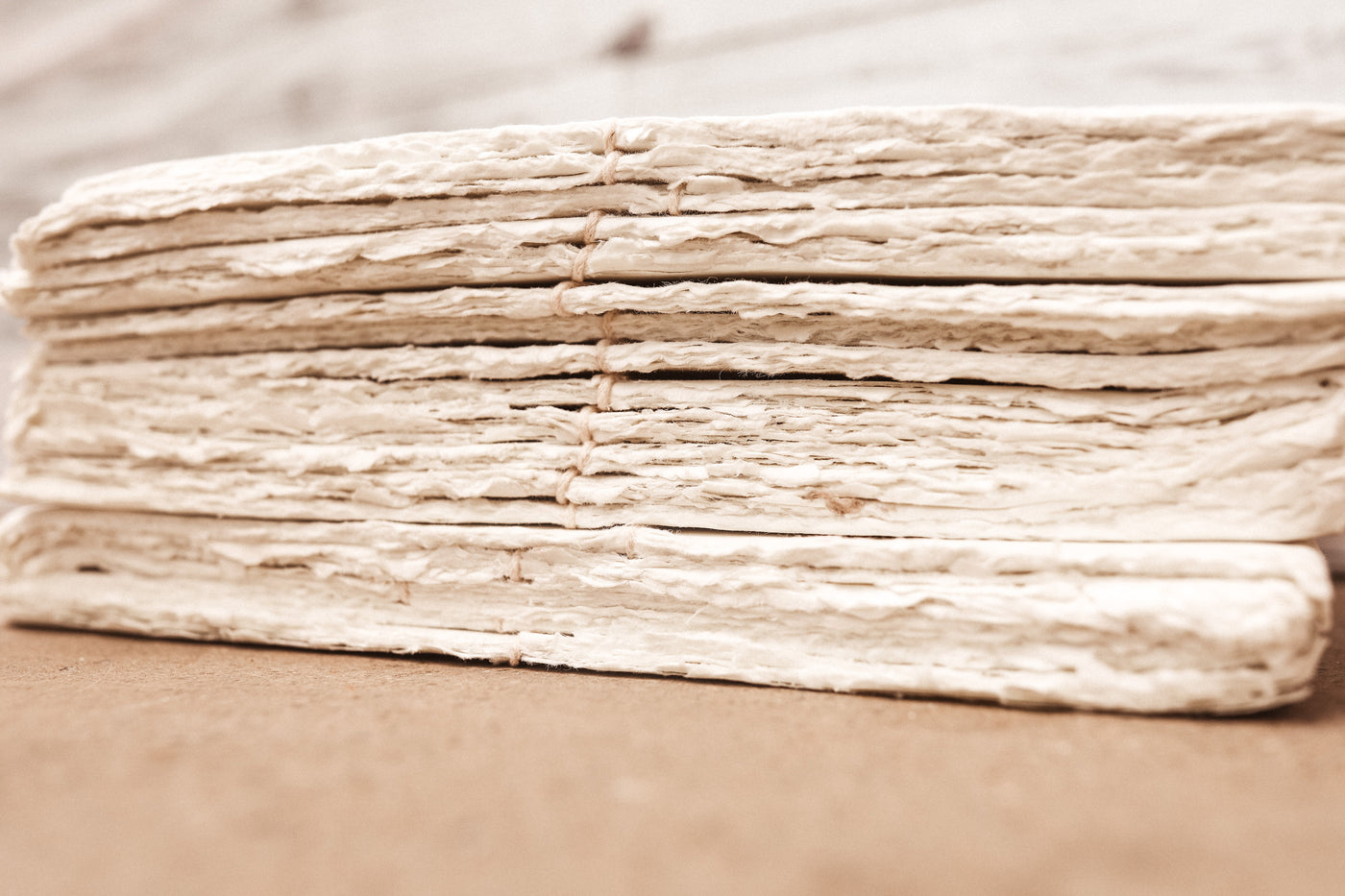 Handmade Paper
SUSTAINABLEMATERIALS
The Leather used on our journals is repurposed leather that would've otherwise gone to waste. This means that it inherently has natural imperfections, marks, and spots.
The paper on all Soothi journals is handmade with recycled cotton waste. It has a luxurious fibrous feel and offers a lot of versatility.
The multi-use, high-quality paper can be used for anything from writing your daily affirmations to watercoloring, sketching, bullet journaling, more!
Your journal Your Way
The paper is also acid-free and can be used for all kinds of creative pages like watercoloring, collage art, scrapbooking and more! It makes an excellent gift for writers, artists or anyone who appreciates good design.